Real Hair Wigs for Cancer Patients
Wigs for Cancer Hair Loss
Chrysalis Custom Hair specializes in wigs for cancer hair loss, which is different than other kinds of hair loss and must be treated specially. Our staff all have experience as cancer support specialists and understand the needs of women in cancer treatment. We provide the most realistic custom wigs for cancer patients, and create beautiful and comfortable wigs for chemo patients. Learn more about cancer wigs and if you are in Chicago or the surrounding areas, it would be an honor to serve you. Call us or schedule an appointment online.
Jill Becker
I'm in awe of this place!!! From the individualized service, to the excellent communication, to amazing covid protocols, I just felt so well taken care of. While going through chemotherapy treatments, it's important to me that I protect my health and I was able to book an appointment and be the only one in the shop at a time. Both the owner and hairstylist wore masks and distanced as often as they could. They also were so patient with me as my head is on the smaller size. The hairstylist took in my custom ordered wig on the spot and made sure it fit well before I left. She even cut and styled my wig to make me feel most like myself again!! I soooo recommend Chrysalis to anyone who is looking for a wig. They made me feel so incredibly happy!!! The pictures attached are before and after pictures. The one of me in front of the window is my wig. The picture of me with a pink zip up is my real hair. They did an incredible job matching to my hair!!!!
Anthony Bafaloukos
Thanks Chrysalis! My Mom couldn't be happier with her wig. As a cancer patient, your services kept her spirits at the highest levels. Her mental stability is key to her health and survival. She loves the look and quality of her wig.
Eileen Chang
Losing your hair to cancer is one of the most emotionally devastating things to go through. I was worried about not looking like myself after going through treatment. However, after meeting Kimberly and going to Chrysalis, losing my hair was significantly less traumatic because she was able to make a wig that looked exactly like my hair, down to the highlights and layered cut. I could not have asked for anything more. She was very thorough and attentive to every detail of my hair. My own family said that if they did not know I was wearing a wig, they would never guess. My girlfriends were shocked when I told them I was wearing a wig because it looked exactly like myself. This is significantly more money than a synthetic wig that you could buy off the internet, but if you are able to afford it, I would highly recommend Chrysalis and Kimberly.
Cancer Wigs Chicago
When you need the best wigs for cancer patients in Chicago, the Chrysalis Team places great value in the experience we provide for our clients. We want you to feel as comfortable and relaxed as possible. With this goal in mind, we begin the process of creating your custom wig with an in-depth complimentary consultation to determine which of our wigs for cancer patients is right for you.
What makes a wig for cancer different than any other? At Chrysalis Custom Hair we understand that hair loss from cancer treatment including chemotherapy and radiation is very different than other kinds of hair loss. We want you to be able to seamlessly transition from your natural hair into your new custom wig without ever changing your look. Therefore, our goal is to keep you looking like yourself through treatment and beyond. We custom design wigs for women with cancer to match the hairstyle you are used to seeing in the mirror. 
Your skin may become more sensitive with the use of chemotherapy and radiation. We use only the finest materials available. Then we customize the fit of the cap by hand stitching it so your wig fits securely without the use of adhesives.  You should not use tape or glue on your skin while in treatment because use of chemicals could cause irritation.
Custom Cancer Wigs Made Quickly and Beautifully
Custom wigs for cancer patients made quickly so that you don't need to worry about going without it. We carry a vast selection of cancer wigs. Often clients find a wig they love and leave with it in just one visit. However, it typically takes about two weeks to complete one hand colored custom wig. We want you to have your new hair whenever you need it, so we encourage you to 
contact us
 as soon as possible to begin the process.
Please CALL US today to learn more or schedule a consultation online. BY APPOINTMENT ONLY
Chrysalis Custom Hair serves the greater Chicago area including Naperville, Evanston, Rockford, Bloomington, Peoria, Springfield, Downers Grove and Oak Park.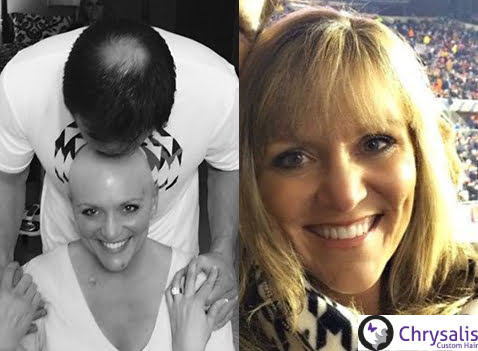 On March 18, 2015 I was diagnosed with stage two infiltrating ductal carcinoma breast cancer hr/pr +. Thankful for a prognosis that I would get to live I was still devastated when when I found out I was going to lose all of my hair. Not only had this disease so quickly taken over my life the treatment to save it would take all of my hair. I decided at this moment I was not going to go down without a fight. I found chrysalis custom hair online and was thrilled with the results that I had seen in the before and after pictures of the women who have gone before me.
———–
Highly Reviewed Cancer Wigs Near Me
Chrysalis Custom Hair is highly reviewed across Chicagoland on Google and Yelp for searches of cancer wigs near me, and customer experience. Schedule a one-on-one appointment in our soothing boutique, which allows you to feel comfortable throughout the process of selecting the right wig for cancer. We've had the privilege of walking alongside hundreds of women who've overcome cancer, and we love when women find the perfect breast cancer wigs. You can call to request an appointment or submit a contact form, we will answer any questions you may have and help you get the best cancer wigs in Chicago.
Whether you choose a synthetic wig or one of our human hair wigs for cancer patients, we will take the time to explain the differences to you so you leave not only loving your new beautiful head of hair, but truly understanding what makes it special.
Once the appointment is set, we will request that you email us a photo or two from a day that you liked the way your hair looked. Even an older photo is helpful so that we can see your color and style. This gives us the ability to have all the correct models and colors ready for you to try on at your private appointment.