How To Put A Wig On? (2022)
Everyday we meet women who are just learning how to a put on a wig for the first time. At Chrysalis Custom Hair, the #1 Chicago Wigs Store for women with hair loss, we count it as an honor to help new wig wearers perfect the art of putting on their wigs. Whether you're wearing custom wigs for style or because of hair loss caused by uncontrollable circumstances, we're here to help you look (and feel) amazing with luxurious hair that magnifies your inner beauty. Learning how to put on a wig is valuable for every woman to learn because it allows you to change up your look as often as you like, and even restore your confidence as you go through seasons of hair loss. Along the way you'll learn how to put on a wig over existing hair, as well as how to put on a wig over thinning hair or a balding head--maximizing your comfort so that it feels like your own head of hair. Let's get started with the Ultimate Guide: How To Put On A Wig!
What You Need To Get Started Putting On A Wig
First things first, you'll want to gather some important wig accessories to get started with the process of putting on your wig.
1) A Human Hair Wig or Synthetic Wig
2) A Mirror
3) A Wig Cap - We recommend a fishnet wig liner to flatten existing hair, and a nylon wig cap (or no wig cap) for very thin hair or a balding head.
4) A Wig Brush
5) *Optional: A Can of Leave-In Wig Conditioner or Wig Conditioning Spray
Begin By Flattening Your Existing Hair and Putting On A Wig Cap
Armed with your choice of wigs, and necessary wig accessories, begin by flattening your existing hair by slicking it back or collecting it with bobby pins in a mesh wig liner. Note: if you're bald or have very thin hair we recommend putting on a nylon wig cap or wearing no wig cap at all (with uber-comfortable wigs like those at Chrysalis Custom Hair). You'll want your hair and head to be as smooth as possible, which allows your wig to sit naturally on your head.
Apply The Wig On Your Head
With the mirror before you, place the wig in your hands (or if you're not concerned about distressing the style, on a table). The front of the wig should be facing towards you, with the nape of the wig farthest away from you. Now, take the wig by the sides and aim the front of your forehead towards the front of the wig, scooping it up and back as you apply the wig.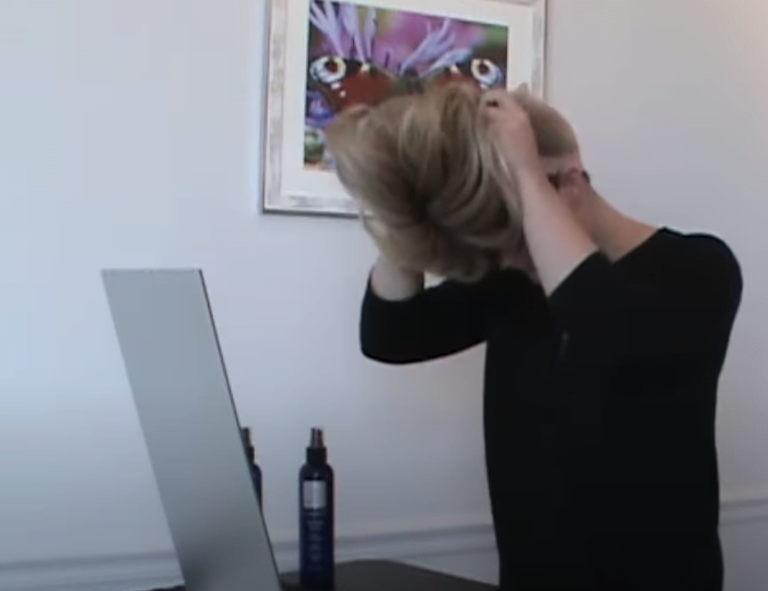 With the wig applied to your head, it's now time to adjust the wig. The first thing you'll adjust is the front hairline. You want the wig's hairline to begin where your natural hairline begins. Grab the ear tabs and lift the wig as you adjust the front of the wig to align it with your natural hairline. You can also adjust the wig by gently taking the base of the wig in two fingers on each hand and positioning the wig by sliding it back as needed. Note: if you don't know where your hairline would naturally begin, that's okay, simply use your fingers to measure starting at your brow bone (brow line). Place 3-to-4 fingers up the forehead to experiment with the best placement of the front of the wig along your hairline.
Ensure That Your Wig Is On Straight
Next, it's important to make sure that the wig is on straight. Locate the front ear tabs and hold your fingers horizontally to parallel them with your ears, as you look at your wig in the mirror. This will quickly show you if the wig is on straight, if one side is higher than the other, or if one side of the wig is further back in space.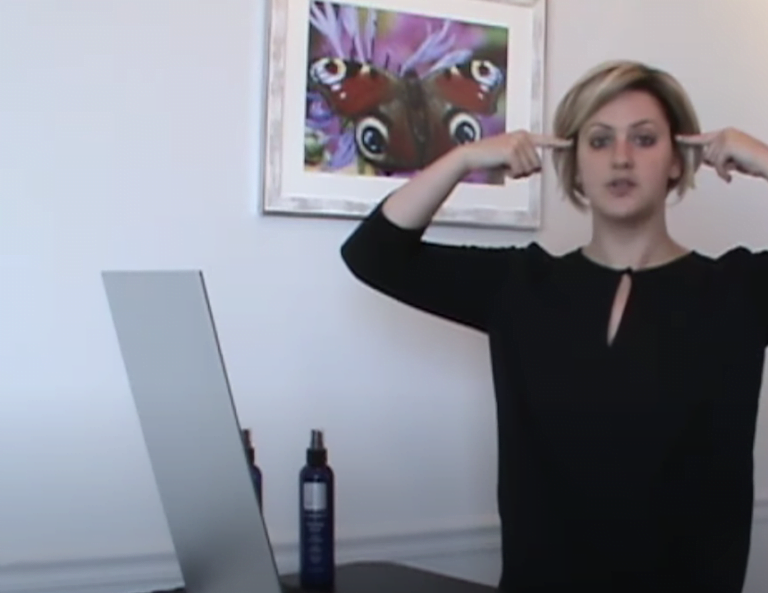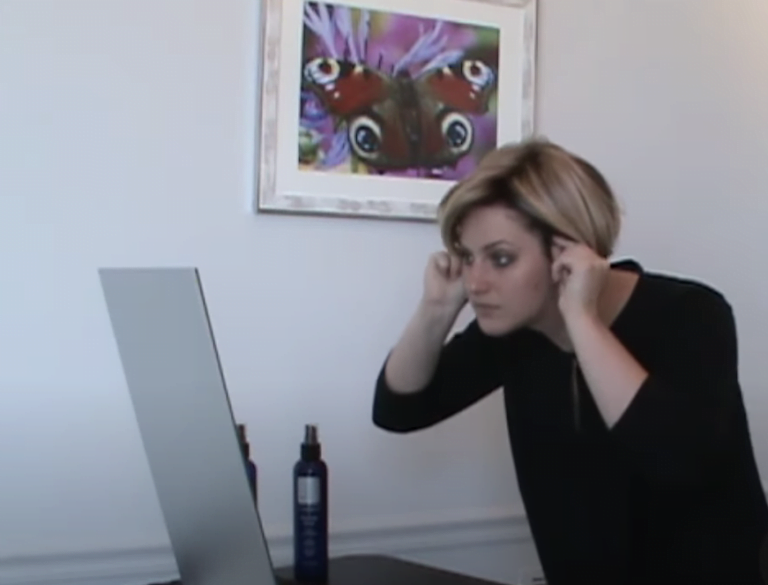 Perfect The Style of Your Wig
With the wig applied, straightened, and firmly in place, it's time to perfect the style of your wig hair. You can now create your part for a human hair wig, or enjoy the already chosen part for a synthetic wig. If needed, take your wig brush and using the bottom row of teeth gently brush flat against the wig to smooth out the hair. Use the wig brush to guide the hair into the intended style. Note: sometimes wig hair that is tucked under or flipped out needs to be re-guided into the right direction by your wig brush. Now, you can piece out the wig with your fingers to break apart the hair and make it look natural.
Use A Leave In Conditioner or Finishing Spray To Complete Your Look
Once you're happy with your style you can use a leave in conditioner for wigs or finishing spray for wigs to complete your look. You can either mist it over your hair, or preferably, mist it into your hand and piece out the wig just a little bit more.
How To Put On A Wig From Beginner To Pro
You've now completed putting on your wig, and you're ready for a great hair day! Of course, if you ever need a resource in Chicago for cancer wigs, alopecia wigs, remy wigs, and the best wigs for women's hair loss, don't hesitate to call us. Hopefully, you feel like you've officially moved from beginner to pro, and you'll always have this ultimate guide for how to put on a wig to help you, if you forget a step.